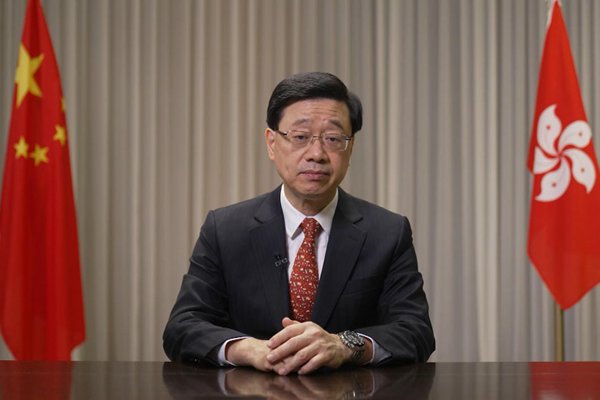 It gives me great pleasure to join the Fifth China International Import Expo and the Hongqiao International Economic Forum. I am grateful for the opportunity to address you on regional co-operation.
Hong Kong is one of the world's most externally oriented and open economies. We thrive on trade and spare no effort to consolidate our status as an international trading centre, a position affirmed by our country's National 14th Five-Year Plan.
As the world's largest free trade agreement, the Regional Comprehensive Economic Partnership (RCEP) is an exciting opportunity that Hong Kong very much looks forward to. This is why I announced in my Policy Address last month that we are actively pursuing early accession to RCEP.
But before RCEP, there was the true pioneer of regional economic co-operation – the Asia-Pacific Economic Cooperation, or APEC, which was founded in 1989. Hong Kong became a member economy in 1991. As provided for in the Basic Law, we continue to participate in APEC using the name Hong Kong, China as a separate and full member after our return to the motherland in 1997.
Our participation is strong testimony to the unique advantages of Hong Kong under "one country, two systems". This innovative principle accords us the enviable position of enjoying strong national support while being closely connected with other parts of the world.
Today, APEC continues to be our close partner in regional co-operation. In two weeks' time, I will be travelling to Bangkok to attend this year's APEC Economic Leaders' Meeting. As the Chief Executive of the Hong Kong Special Administrative Region, I will be there to tell the good and true stories of Hong Kong, to showcase Hong Kong's unwavering commitment to promoting regional economic co-operation, as well as Hong Kong's unparalleled resilience in the face of the pandemic.
We are eager to join hands with other APEC member economies to forge high-standard and comprehensive regional undertakings, to rebuild confidence and to deliver a more open, reliable and predictable trade and investment environment. This is the only way towards a robust path of recovery for the region, and for the prosperity and well-being of our people and future generations.
On this note, I must congratulate RCEP member economies for bringing the momentous free trade agreement into force in January this year. The trade pact provides a basis for broader regional integration through improvements in market access, more coherent trade facilitation and regulatory rules and co-operation. It creates new trade opportunities and is set to accelerate the region's economic recovery.
RCEP members account for nearly 30% of the world's total trade volume, and they all are Hong Kong's key trading partners. Together, they accounted for over 70% of our total merchandise trade in 2021. To date, we have already concluded free trade agreements with 13 of the 15 RCEP members.
Like all RCEP members, Hong Kong is an advocate of free trade. The Hong Kong SAR Government submitted our formal accession request in the same month when RCEP came into force. We are most indebted to the Central People's Government for its support all along in our bid for RCEP membership. We are also pleased to have received positive responses from other RCEP members.
Hong Kong is definitely well placed to add value to RCEP and indeed in many unique ways. As I have told an audience of top global financial leaders in Hong Kong this week, we possess extensive advantages for investors, including a business-friendly environment, a highly regulated system for financial services, as well as a simple and low tax regime.
Our accession to RCEP will further strengthen our business ties with all RCEP members. It will also bring our mutually rewarding relations to a new height.
We will continue to canvass support from RCEP members for Hong Kong's early accession, so we could better serve the region and achieve mutual growth.
Against the headwind of unilateralism, we shall reaffirm our strong and unwavering commitment to free and open trade. Let us work together to achieve a higher level of openness and make good use of all available opportunities, including this forum, to exchange views on how to strengthen our resolve to sustain an open world economy. After all, we all have a stake in it.
Before closing, I wish the China International Import Expo and the Hongqiao Forum continued success and good health to you all.
Chief Executive John Lee gave this video speech at the Hongqiao International Economic Forum High-level Session "RCEP Spurs Higher-level Opening Up" on November 5.