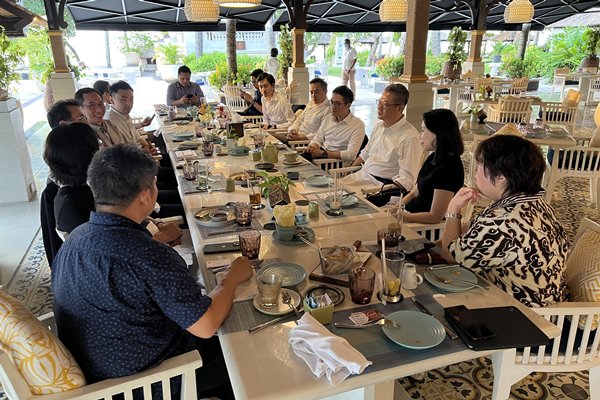 Financial Secretary Paul Chan arrived in Bali, Indonesia today to attend the Group of Twenty (G20) Leaders' Summit and began his visit by meeting the chairman of the Indonesian Chamber of Commerce & Industry (KADIN) and the Chief Executive Officer of a financial services company. 
KADIN is the largest national industry and business organisation in Indonesia, and is the organiser of this year's Business 20 Summit.
Mr Chan met KADIN Chairman Arsjad Rasjid to introduce Hong Kong's latest situation and its institutional advantages under the "one country, two systems" principle.
Both sides also discussed the strengthening of bilateral investment and trade co-operation matters and exchanged views on the economic outlook of the Asian region.
Mr Rasjid said KADIN is actively preparing for a high-level delegation to visit Hong Kong next year to explore opportunities for further co-operation and development.
In addition, Mr Chan met PT Indonesia Infrastructure Finance CEO Reynaldi Hermansjah to promote Hong Kong's favourable environment for investment and business and to explore opportunities for co-operation in green bond issuance, infrastructure financing and other business areas.
Mr Chan also had a tea gathering with the Hong Kong community in Bali to learn more about their daily lives and business operations.
He will attend the G20 Leaders' Summit on November 15 and 16 as part of the People's Republic of China delegation.