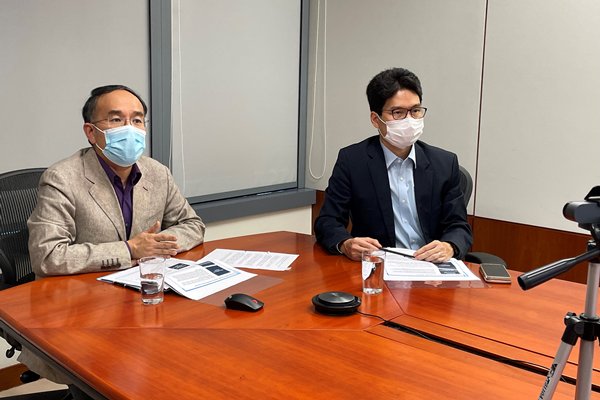 The Financial Services & the Treasury Bureau today held an online meeting with leaders of over 30 financial services institutions to discuss the spirit of the 20th National Congress of the Communist Party of China (CPC) and highlights of the Policy Address.
The 20th National Congress of the Communist Party of China concluded victoriously on October 22 in Beijing. During the congress, a report presented by General Secretary Xi Jinping on behalf of the 19th CPC Central Committee was approved.
The report stressed that the policy of "one country, two systems" is a great innovation of socialism with Chinese characteristics and the best institutional arrangement for ensuring sustained prosperity and stability in Hong Kong after its return to the motherland, and therefore it must be adhered to over the long term.
Secretary for Financial Services & the Treasury Christopher Hui today told the participants that the report gives Hong Kong strong confidence to better integrate into the overall development of the country.
He said the bureau will motivate Hong Kong to leverage its unique advantages of enjoying the strong support of the motherland and being closely connected to the world under "one country, two systems" to bring high-quality development of the financial industry and contribute to the country.
Under Secretary for Financial Services & the Treasury Joseph Chan pointed out that General Secretary Xi put forward "four musts" and "four proposals" in his important speech delivered on July 1, illustrating substantial directions for Hong Kong's future.
Mr Chan also noted that, as mentioned in the Policy Address, the bureau will adopt a result-oriented approach and spare no effort to promote a number of new initiatives under three areas – creating strong impetus for growth, earnestly addressing people's concerns and difficulties in daily life, and working together to safeguard harmony and stability.
The new initiatives include enhancing the competitiveness of Hong Kong's financial services, nurturing talent, promoting digitalisation and regulating crowdfunding activities.
In addition to representatives from the securities, banking, insurance, fintech and wealth management industries and professional organisations, over 20 members of the bureau's Working Group on Integration into National Development also participated in the financial services network meeting.