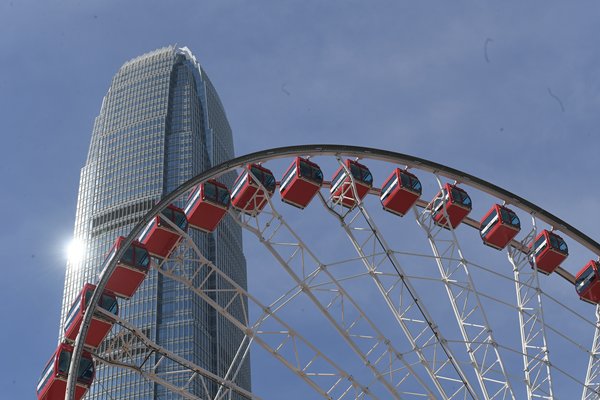 Hong Kong's economy in the third quarter contracted 4.5% from a year earlier according to the advance estimates on gross domestic product (GDP), the Census & Statistics Department announced today.
It said the decline in GDP was mainly attributable to the weak performance in external demand during the quarter.
On a seasonally adjusted quarter-to-quarter comparison, GDP dipped 2.6% in real terms in the third quarter compared with the preceding quarter.
Private consumption expenditure remained virtually unchanged in real terms in the third quarter year-on-year, while government consumption expenditure grew 4.3%. Gross domestic fixed capital formation decreased 14.3%, larger than the 2.1% decline in the second quarter.
Over the same period, total goods exports and imports recorded a decline of 15.5% and 16% respectively. Exports of services fell 3.5% while imports of services dropped 4%.
The Government said the Hong Kong economy showed a widened year-on-year contraction in the third quarter.
It explained that the worsened external environment and continued disruptions to cross-boundary land cargo flows dealt a serious blow to Hong Kong's exports.
Tightened financial conditions resulting from the aggressive interest rate hikes by the major central banks also weighed heavily on domestic demand, though improved labour market conditions and the disbursement of consumption vouchers in August have rendered support to private consumption.
Looking ahead, the Government pointed out that the markedly deteriorating external environment will continue to place immense pressure on Hong Kong's export performance in the remainder of the year.
Elevated inflation and aggressive monetary policy tightening in major advanced economies will dampen global demand further, while heightened geopolitical tensions and the pandemic development will also add downside risks.
Nonetheless, the recent relaxation of the quarantine and testing arrangements for inbound visitors should help exports of services.
Domestically, while the generally stable epidemic situation, improved labour market conditions and the Consumption Voucher Scheme will continue to support consumption demand, tightened financial conditions and the consequential weak asset prices will increasingly offset the positive effects.
Moreover, rising borrowing costs will further dampen fixed asset investment, the Government added.