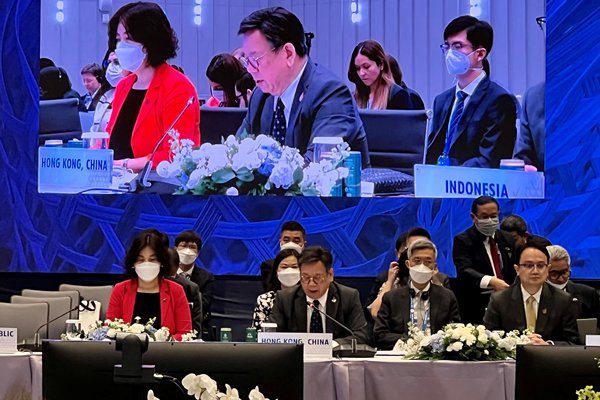 Secretary for Commerce & Economic Development Algernon Yau today attended one of the plenary sessions of the 33rd Asia-Pacific Economic Cooperation Ministerial Meeting in Bangkok, Thailand.
During the session themed Open & Sustainable Trade & Investment, Mr Yau and ministers of 20 other member economies exchanged views on the state of global trade and how to maintain the momentum for open and sustainable trade and development.
He remarked that notwithstanding the complex challenges posed by supply chain disruptions, inflation, geopolitical tensions, rising protectionism and social and environmental concerns, APEC's member economies need to intensify co-operation more than ever.
"A free and open trade and investment environment is the cornerstone of a dynamic economy, and has always been the bedrock of our city's development. It has been the case for the past 25 years since the establishment of the Hong Kong Special Administrative Region, and will continue to stay so for the years to come.
"We will continue to strengthen external exchanges and bolster regional connectivity. Hong Kong is grateful for the support received thus far towards our accession request to the Regional Comprehensive Economic Partnership, and we look forward to making contributions to further regional economic integration through early participation in this landmark free trade agreement," Mr Yau said.
On the sidelines of the APEC ministerial meeting, Mr Yau met Vice Minister of Commerce Ling Ji to keep him abreast of Hong Kong's latest economic and trade developments.
He also exchanged views on bilateral trade and issues of mutual concern with New Zealand Minister for Trade & Export Growth Damien O'Connor in another meeting.
After his arrival yesterday, Mr Yau met Singaporean Minister for Trade & Industry Gan Kim Yong to discuss various trade and economic issues.